FLASHBACK FLICKS: Death Becomes Her
Hollywood and society as a whole has always had an immense obsession with youth. Director Robert Zemeckis, whose other projects included Romancing the Stone (1984), Back to the Future (1985), and Who Framed Roger Rabbit (1988) decided to put a spotlight on Hollywood's fixation with beauty, glamour, and women maintaining their youthful glow by pairing two iconic stars together to create what has since become a cult classic: Death Becomes Her.
Picture it: Meryl Streep and Goldie Hawn. Two leading ladies who at the time had been in the business for twenty years and for over a decade had established themselves as Hollywood's elite, pairing up in a film about two long-time friends who share a narcissistic and jealous rivalry that leads them both down a path of discovering the fountain of youth. This sounds like gold. But believe it or not, despite making over $150 million dollars at the box office, Death Becomes Her was not a big hit among critics when it was released in 1992.
But what's interesting to learn is that what made Death Becomes Her falter in terms of critical reception is exactly what has made the film such a quintessential classic today. It's vain, over the top, and satirical to the max. I mean, take away the mystified idea that there is a magic potion one can take to keep them young forever, and really, you have a story that resonates with a lot of women in real life, especially those in the entertainment industry. Perhaps Hollywood suits didn't like being exposed for denying their leading ladies work simply because they couldn't pull off looking twenty when they were in their forties.
Fortunately for me, Death Becomes Her was the first movie I saw that introduced me to both Meryl Streep and Goldie Hawn. I remember my dad taking me to the video store as a child and looking at the VHS cover (yes, it was the 90s), of Death Becomes Her and thinking, "The blonde woman in the red dress is beautiful, and the woman with the red hair and a giant hole in her stomach with candles sticking out of it looks scary."
By the time I was 8 years old, I knew I wasn't like the other boys in class. I didn't like playing with toy trucks, I didn't participate in sports. I preferred helping my sister pick out dresses for her dolls and looking at photos of beautiful women from the movies. And Death Becomes Her really played a major impact on my love and admiration for movies and is one of the reasons why I still revisit the film to this day. I remember watching Meryl Streep in the opening scene. I saw this striking woman sitting in a chair and serenading herself as she admires her beauty. Suddenly, the band starts playing and she is being escorted down a staircase by several men as she sings the words, "I see me," while wearing a form-fitted sequin gown and a feather boa. This was my first introduction to Streep, not a dramatic performance like she is usually applauded for, but as a woman whose ego is as big as the stage she is dancing on. The number is narcissistic, tacky, and overly extravagant and I just remember thinking, "I want that to be me." In fact, when I watch the film as an adult, I still kind of do.
Meryl Streep as the fabulous Madeline Ashton.
If you've read my article in which I rank my top 10 Meryl Streep performances, you'll see just how much I adore her in this film based on where it's ranked. You'll also learn that I think Streep is at her best when she is not being confined by the walls of drama and getting lost in a role that requires her to be serious from beginning to end. No character sets Streep so far away from her many dramatic roles as that of Madeline Ashton in Death Becomes Her.
Madeline is a major Broadway star whose career is on the decline. She steals her "best" friend Helen's fiancée, Dr. Ernest Menville (Bruce Willis) and marries him. Seven years later, Helen (Goldie Hawn) is found living in her apartment, extremely overweight and replaying films that star Madeline in which she dies. Helen is sent to an institution and is told she must completely erase Madeline from her mind.
Goldie Hawn as Helen Sharp.
Another seven years later, Helen comes to Beverly Hills and invites Madeline and Ernest to a party being thrown in her honor for a book she has written called "Forever Young." Helen is fifty years old but has never looked better. She is thin and elegant. Madeline, also fifty, is now an out of work actress trying to hold on to her looks and not doing a good job, while Ernest is no longer a Doctor, but an Embalmer. Seeing her rival in such good shape, Madeline undergoes a psychotic breakdown and is invited to a mysterious mansion in which she meets Lisle von Rhoman, played by the stunning Isabella Rossellini.
During their odd meeting, Lisle sells a potion to Madeline that rejuvenates her and completely transforms her into her younger self.
But despite this miracle of eternal youth, there is a warning.
Lisle simply tells Madeline to take care of herself, that she and her body will be together for a very long time. What happens next takes the plot line of this film to a whole new level. Now young and ready to be back on the scene, Madeline confronts Ernest, calling him flaccid. Tired of handling her ridiculous behavior, Ernest pushes Madeline down the stairs. She breaks her neck. Ernest rushes to the phone and calls Helen who came over earlier when Madeline was away and convinced Ernest to kill Madeline so the two of them could be together. While he is on the phone, Madeline gets up off the floor and we quickly find out just what the warning Lisle mentioned to Madeline was. Madeline creeps up on Ernest, taps him on the shoulders, and says "You pushed me down the stairs," not realizing her head is facing the opposite side of her body.
Ernest rushes Madeline to the hospital and finds out she has no pulse. After a mix-up and she is sent to the morgue where he finds her crying in a drawer, Ernest is convinced this is a miracle and he takes Madeline back home. Later on, Helen arrives at their house with shovels, ready to bury Madeline, not knowing she is still "alive." When Madeline hears Helen downstairs bashing her ability as a wife and actress, Madeline confronts Helen and shoots her in the stomach, blowing her across the room.
Moments later, Helen rises up with a giant hole in her stomach. Ernest, who can only exclaim "It's a miracle," watches as Madeline and Helen both admit they took the same potion to keep themselves young and beautiful, not knowing that it meant forever. The confrontation between the two in this scene is so over the top and "Dynasty-ish" that it creates pure comedic gold.
With such an interesting plot line, Death Becomes Her required a lot of detailed special effects. The film actually won the Academy Award for Best Visual Effects. It's a shame that was the only nomination the film received.
Some may be shocked to find out that the man who won the Academy Award for Best Director for Forrest Gump in 1994 was also the director of such a campy film. But I absolutely love Death Becomes Her because of all the things critics seemed to fault it for when it was initially released. When a person brings up Meryl Streep, the very first role that comes to my mind is Madeline Ashton in Death Becomes Her. As gay men, we are so totally involved in pop culture and immerse ourselves in eccentricity. We have a connection to women who have truly lived and stood up for something. We take what critics call "over the top" or "lack of depth" and try to view it as an art form.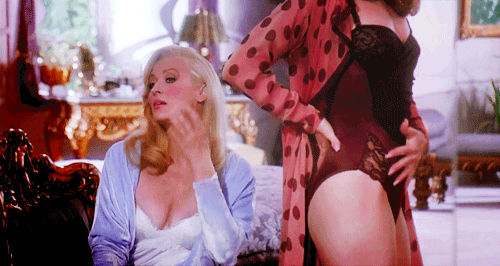 We as a society are completely obsessed with vanity and this film exposes the obsession with eternal youth in a dark, yet amusing way. The death scenes are hilariously over the top, the dialogue between Streep and Hawn is so satirical and yet there is an element of realism as there really are friendships that spark such rivalry, especially in women. Even the way Streep moves throughout the scenes, waving her arms, and Hawn, tilting her head up in arrogance is so overly-dramatic that these types of physicality and reactions have influenced those in theatre and in the Drag community. In fact, Death Becomes Her has been referenced several times on the hit reality show RuPaul's Drag Race and has been a staple in the gay community since its release.
A cult film is often described as movie that is not praised by critics but over time develops a love and appreciation from mainstream moviegoers. Like bubbles in a glass of champagne, Death Becomes Her rises to the top and sets the bar high for what it means to be a cult classic.
For more Flashback Flicks, be sure to subscribe to my blog Some Like It Hollywood!